For Nursing Homes - Assisted Living - Independent Living Communities - Rehab facilities, etc.
I am an entertainer in the Southeastern New England Area

Check this Roger Chartier Senior Entertainer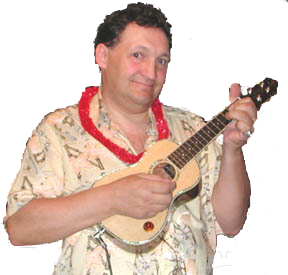 Hawaiian Luau:
You can have a cook out or if it rains, a cook in.

The fun is the music, costumes and food. Food can be anything that is vaguely Hawaiian.

Cooking on the grill gives some atmosphere to the event.

Hot dogs and hamburgers are practical along with watermelon as they are easy to eat. You might add some table decorations to make it interesting.

Of course, you invite all of the residents and maybe families, as well.

Hawaiian and Island Music are a must.

A good bonus is live musical/vocalist entertainment. Employees and residents all get

If you go outdoors for the cookout, you will want straw hats to keep the sun off of the residents heads, or keep them in the shade.

The fun is when the activities employees and volunteers get dressed up in Hawaiian grass skirts.

Then you can do a Hula dance contest with the residents judging.

This works well with residents who are in assisted living facilities, dependent living facilities, who have dementia and Alzheimer's, as well as seniors who live at home.

I like the party favors and props because they really give it the flavor of a Luau. Have fun!